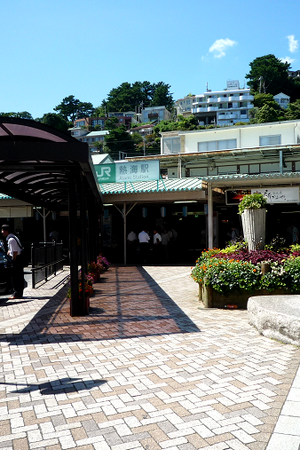 Introduction
Travel event is a new feature added in Love plus plus. During certain months, it is possible to get a two-day long travel event. It starts with the girl sending you mail about someone's travel plan or reading about traveling. Eventually, an opportunity will present itself for you to take her on a two day and one night trip to Atami, a classic romantic getaway spot famous for its hot springs.
Warning
The trip unfold in real time mode. It is rather intensive (20+ events a day at fixed time). The first day starts at 8:00am end after 2:00am. The second day starts at 6:00am and ends at 9:00pm. Prepare to lose some sleep if you don't want to tweak the DS clock.
Once you enter traveling mode, skip mode will be disabled for that game save. You will not be able to change the game clock.

It is possible, although not recommended, to take more than one girl simultaneously on the Atami trip. There are enough gaps between events to switch back and forth. However, some events are triggered by the amount of time you spend talking to the girl, or watching her sleep. Switching back and forth will cause you to miss some events. (unless, of course, you tweak the DS clock)
Pre-Event
Email exchange about traveling.
Email notice of winning a trip for 2.
Forced event: An opportunity arises, invite the girl. (Schedule the event. Has to start on a Saturday)
Forced event: Shopping together for the trip.
Game enters traveling mode
Traveling Love Plus Mode
This is what you will spend most of your traveling time in. It resembles the regular Love Plus Mode with the girl on the right screen talking and reacting to what you say when the mic icon is up, with an alternate list of reaction words. There is no command icon from the home screen to enter this mode. However, you will automatically enter this mode after idling for about 30 seconds in the main screen.
Oyasumi Mode
This, is probably the mode time consuming portion of the trip. Basically, it is a point and touch skinship session while lying down side-by-side with the girl. Each success makes the girl move closer to you. You will get 4 chances. Once right after you go to bed at 0:00am, then 15 minutes after the first session, then 30 minutes after the second session, the last one is 60 minutes after the third session. You can't just save, exit, and set the DS clock forward, since it resets the girls position to furthest from you. You are stuck here for about two hours if you get the full session. (also keep in mind the next event happens at 6:00am
Schedule
Day 1 (Saturday)
Time
Event
Illustration
Note
Manaka
Rinko
Nene
08:00
Meeting at New Towano Station
Girl gets new hair-style. Give opinion on hair and clothing.
09:00
New Towano Station ~ Express Train
10:00~
Under-packed
Losing Tickets
Missing Luggage
Triggered event. Requirement unkown.

In the case this is not triggered, the game goes on to the next event

10:00~
Pretend to be on a honeymoon? (Select Y/N)
If answered affirmatively, you will get extra exchanges at various spots during the trip.

The girl unexpectedly kiss you (active personality) or you unexpectedly kiss the girl (passive personality)
The girl calling you "Anata"

12:00
Arriving at Atami
12:10
omiya no matsu ~ Izusan Jinja

Check point:Fitness (for running up 600 stairs)

Lunch: Flower Fairies
Manaka
10 minutes after the previous event
13:00
Lunch: Flower Fairies
Izusan Jinja ~ omiya no matsu

Check point:Fitness (for carrying Rinko up 600 stairs)

Atami Ropeway ~ Aijou Viewing Platform
Nene
13:10
Beach
Atami Adult Musuem
The beach event may be triggered early and take this time block. Adult Museum may not be triggered. Requirement unknown
13:30
Beach
Sight Seeing Atami City
May become an empty block if beach event is triggered early.
14:00
Manaka's boots
Using cell phone while on the trip
Lunch: Flower Fairies
14:10
Event: Eager to get to the hotel, preoccupied GF
Beach
Rinko
14:30
Event: Eager to get to the hotel, preoccupied GF
Not always triggered
15:00
|Atami Ropeway ~ Aijou Viewing Platform
Izusan Jinja ~ omiya no matsu
15:10
Atami Adult Musuem
Not always triggered.
15:30
Sight seeing in Atami City
16:00
Checking in at Hotel Ohnoya
16:30~
Tea time in the hotel room.
Event notice may not show up.

Triggered after 30 minutes in Love Plus Mode.

17:00
Exploring the hotel
10 minutes after tea time.

Not always triggered. Based on [[Boyfriend Power|BFP] According to TOWANO WATCHER, this is based on Intelligence.

17:10
Event: Hesitate to use the toilet
Event: Key Problem
Event: TV is not allowed
*10 minutes after the previous event

May move up if exploring is omitted.

17:20
Over eating
10 minutes after the previous event
18:00
Roman Bath
Events converge after this point.
19:00
Dinner ~ Conversation about the legendary beach
Yes
20:00
Table Tennis
21:00
Unsheltered Bath / Family Bath
Family Bath
Sometimes not triggered.
22:00
Asking girl to a night stroll
If turned down, can ask after 10 minutes.
22:10
Night beach
10 minutes after night stroll
23:00
Stealthily adjusting the distance between futons.
This determines the starting point of your sleep time Skinship.

The girl will notice and move the futon back if you over do it.

00:00
Bed Time: Oyasumi Mode
Special
wake the girl up for skinship. (No, it not going to turn into an erotic scene. The most you can do it to get her to sleep right next to you under the same cover)

Can be triggered up to 4 time. Each success brings the girl closer. At the end, the girl will ask to sleep under the same cover. She will not wake up after that point until the next morning.
Day 2 (Sunday)
Time
Event
Illustration
Note
Manaka
Rinko
Nene
06:00
Waking up ~ Watching the girl sleeping
Yes
06:30
Girl Waking Up
Yes
07:00
Mistaken Morning Call
08:00
Getting out of bed ~ Change
09:00
Breakfast ~ Checkout
10:00
Port Atami ~ High Speed Ferry
11:00
Event: Just like a movie
Event: Rinko's Potato Chip
Event: "Cheese~"
Manaka, Rinko
12:00
Port Hatsushima ~ Lunch: Megane Maru
13:00
Hatsugi Jinja
13:10
Hatsushima Lighthouse
Nene
10 minutes after the previous event

Not always triggered

15:00
Legendary Beach
*Sequence differs for each personality type.

Staff roll (You win the game, again.)

16:00
Port Hatsushima ~ Atami Station
16:10
Souvenir
Not always triggered
16:20
Sunset
May select "Sunscreen" on the beach.

May occur early if event: souvenir is omitted

18:00
Express Train ~ New Towano Station
19:00
The Walk Home
20:00
Event: Not wanting to part
Event: Forgotten article
Event: Phone until arriving at home.
Not always triggered
21:00
End of traveling event.
External Links
Community content is available under
CC-BY-SA
unless otherwise noted.