Dengeki Special Issue
Edit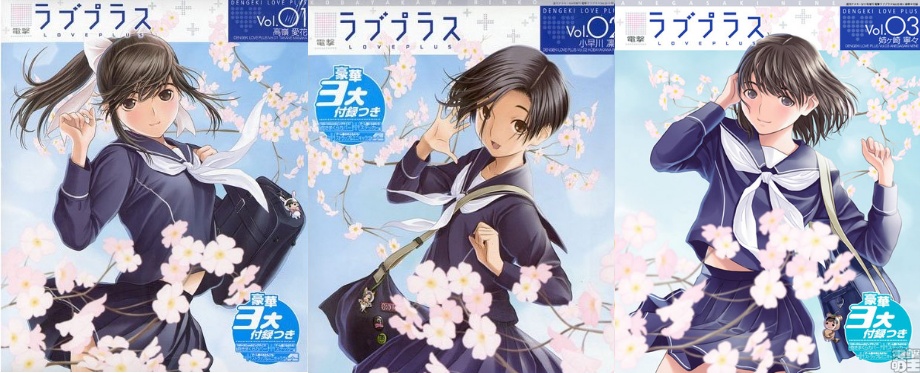 Three special issues from Dengeki G magazine. Each issue comes with a cellphone charm (usagi manake, neko rinko, tanuki nene) and a pillow case featuring the girl in a bikini.
Character Setting Books
Edit
Towano Watcher
Edit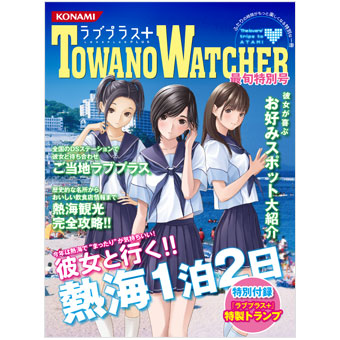 Towano Watcher is a guide book published by Konami in a mock-magazine format. It comes with a play card deck featuring Love Plus graphics.
Nendoroid
Edit
Nendoroid action figures from GoodSmile. Each comes with 4 interchangeable face and 4 pairs of arms. Clear acrylic stand.
DSiLL LovePlus Limited Edition
Edit
iPhone Applications
Edit
These are NOT the game ported to iPhone. They do NOT link/sync/interact* with the DS game. These applications are just a scheduler featuring one of the girls in higher resolution. The sprite reacts to touch, a bit, but does not say much. There is also an Augmented Reality function that lets you see and take picture of the girl in the real world through your iPhone lens.
LovePlus DSiLL Play Stand
Edit
Timeless Diary
Character Box Vol 1. Manaka
Character Box Vol 2. Rinko
Character Box Vol 3. Nene
Sound Portrait - Manaka
Sound Portrait - Rinko
Sound Portrait - Nene
Hohoemi Photograph
Mimimoto