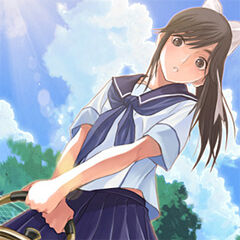 Interests
Making Desserts, Piano.
Manaka Takane (高嶺 愛花) is a character in the Love Plus series.
Profile
Manaka is in the same year as the protagonist. They also go to the same after school tennis club. Her father is a doctor who possesses advanced levels in both judo and kendo . Manaka had lived a sheltered life with very proper upbringing. She excels in school works and tennis. Her classmates shy away from her perfection and nicknamed her "Takane no hana", meaning "the flower on the mountain peak", which is a pun on her name.
Manaka completely lacks certain experience which are common to her peers, such as ordering and eating a hamburger combo, going out with her friends after the tennis club, and watching TV.
Producer's Comment on Manaka
Guide
Trivia
See Also
External Links
Gallery