After a girl has confessed her feelings (and the confession is accepted), the game changes its course entirely. Dates can be scheduled on Sundays and Holidays, the girl can be called out on short dates any time, and you can go into Love Plus Mode which allows you to talk to your girlfriend. You can also enter Real Time Mode, a completely different style of play where days pass as they do in the real world.
Real-Time Mode and Skip Mode
Edit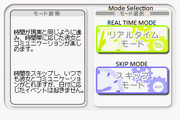 Now that you are in Lover Mode, you can switch between Real-Time Mode and Skip Mode. The real-time mode has many date-time sensitive feature such as school events, holidays, birthdays.